Iran is ready to destroy any country that launches an attack on its territory, a senior military official has said, after the US announced it was sending troops to support Saudi Arabia.
"Be careful and make no mistake," said the head of the Revolutionary Guards.
Iran denies the accusations by the US and Saudi Arabia that is behind recent attacks on two Saudi oil facilities.
A top Saudi official said "necessary measures" would be taken after the investigations were concluded.
Saudi Minister of State for Foreign Affairs Adel al-Jubeir did not give details of possible actions, but vowed to release the full findings of the investigations.
Yemen's Houthi rebels, who are backed by Iran, have said they were responsible for the attacks on 14 September.
Tensions between the US and Iran have escalated since US President Donald Trump abandoned a deal limiting Iran's nuclear activities and reinstated sanctions.
What did Iran say?
"Our readiness to respond to any aggression is definitive," Maj-Gen Hossein Salami told state media on Saturday. "We will never allow a war to enter our land."
"We will pursue any aggressor," he continued. "We will continue until the full destruction of any aggressor."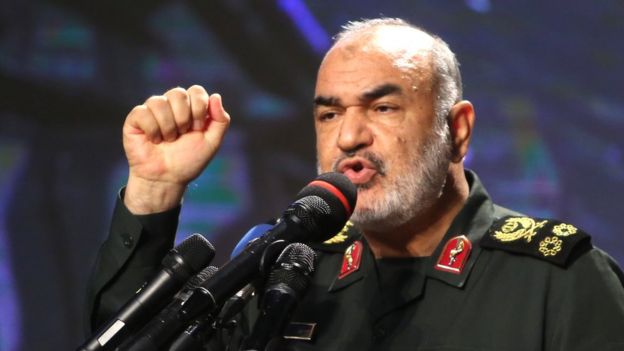 Maj-Gen Salami, who was speaking at the opening of an exhibition of captured drones in the capital, Tehran, added that "they will hit anybody who crosses" Iranian borders.
Iran's Revolutionary Guard Corps (IRGC) are an elite branch of the country's military and have been designated a terrorist organisation by the US.